Our mission is to provide clean, safe and absorbent horse bedding to ensure the well-being of your animals and to provide the best possible value to our customers. Bedding is not a fun expense like a great saddle pad or blanket, but it IS essential. We are here to help you eliminate unnecessary waste, while providing quality horse bedding that you can count on. Now you can be SELECTive
We feel that as the owners and hands-on operators of a 20+ horse stable for over 20 years, we truly understand the concerns and needs of our customers. We have ridden, owned and loved horses for over 35 years. The well-being of our animals is our TOP priority which is why we are dedicated to providing exceptional horse bedding products.
Our search to improve the quality and efficiency at our own stable resulted in the development of our animal bedding product line over a decade ago.
TaylorSelect Horse Bedding provides a clean, absorbent, well cushioned base for your horse's stall. Our facilities produce only pure pine products to guarantee there is no chance of hardwood contamination. We use only kiln dried pine for our shavings which assures the highest level of absorbency. In order to make our horse bedding as safe and as clean as possible, our products also go through a rigorous screening process to remove dust, mold spores and other allergens.
We understand that there is more than one premium bedding product and that people have preferences. It is because of this, we offer an array of quality products to meet your needs. We take pride in our products and value our customers. We thank you for choosing TaylorSelect.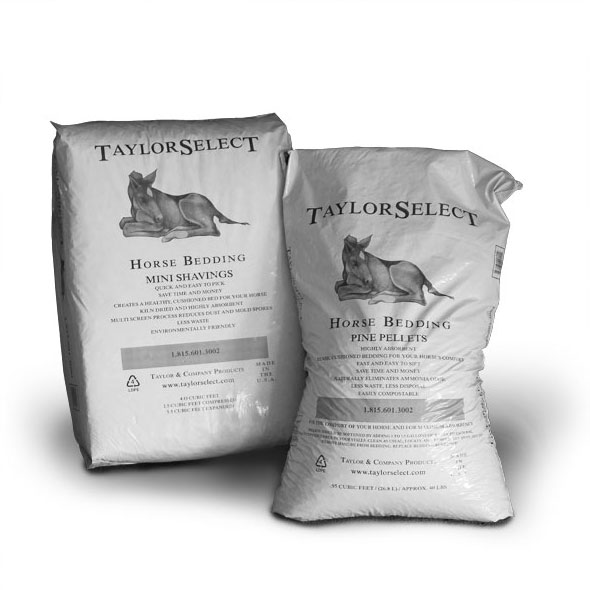 It was in our search to enhance the quality in our own stable that we developed our product line and our business. We have been providing quality bedding for close to a decade.